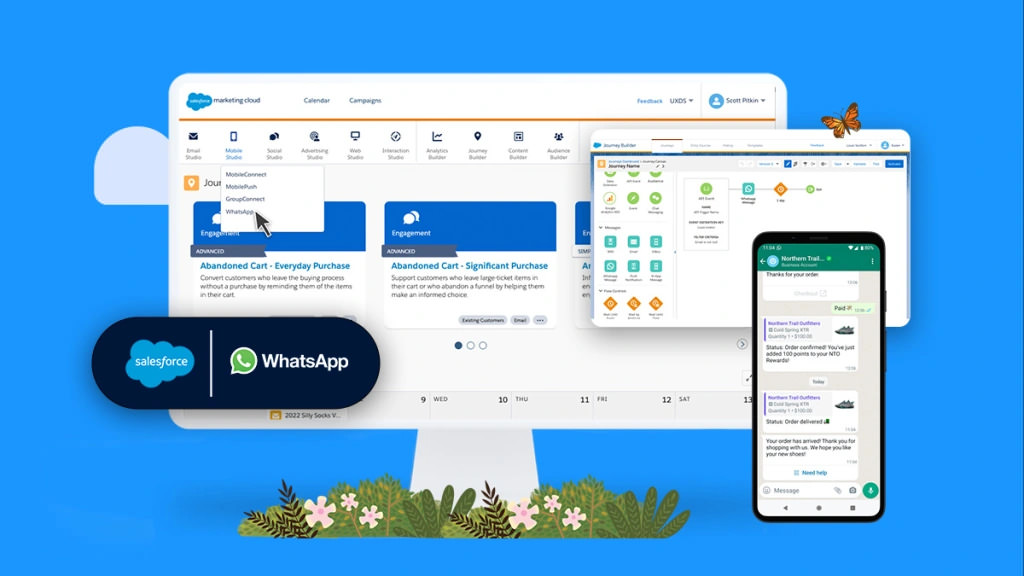 Salesforce and WhatsApp Globally Collaborate to Transform the Interaction of People and Businesses
At Dreamforce 2022, Salesforce and WhatsApp announced that they have formed a new strategic partnership. With this new partnership, Salesforce customers will connect with their own customers and create a new messaging experience through WhatsApp. Aiming to adapt to the fast-paced business world every day, this collaborative work plans to transform the interaction that businesses and people have built.
Offering private messaging to businesses, WhatsApp has managed to bring people and businesses around the world together, connect and deliver personal experiences. Integration with Salesforce aims to completely change the communication brands have established with the customer. With Salesforce Genie, Salesforce's new data platform, companies can contact their customers directly. This will allow you to deliver personalized experiences in real time in sales, services, marketing and promotional work.
Why Is Messaging Important?
In particular, in recent years, messaging has become a key role in communication between both contacts and businesses and customers. Research provides a variety of data on how serious the messaging takes up.
About 90% of customers say the experience a business has to offer is as important as the products or services of the business.
85% of customers expect consistent interaction between departments.
About 60% of customers prefer to interact with companies through digital channels.
86% of the leaders say advanced customer-facing technologies are critical for their organizations to compete.
When all this is addressed, it plays an active role in messaging, business customer satisfaction, customer gain and customer retention.
How Will Customer 360 and WhatsApp Increase Customer Interaction and Loyalty?
Salesforce's Marketing Cloud, Service Cloud, and Commerce Cloud applications will integrate with support through WhatsApp. This support is expected to focus on the areas of promotional and customer service messaging and transactional trading capabilities in the near future. Businesses will be able to transform both their brands and customer relationships by providing a personalized messaging experience for each customer. At the same time, this integration will help deliver the following benefits:
End-to-end customer journey creation: It is possible to connect, send and manage connections with WhatsApp and Journey Builder to create an end-to-end customer journey.
Personalization of every moment and message with the Marketing Cloud Customer Data Platform: Salesforce customers will be able to implement marketing personalization processes using trusted first-hand customer data in real-time.
Improve sales and services with artificial intelligence and automation: With personal messages via Automation and WhatsApp, it will be possible to avoid the loss of effort and time caused by manual processes.
Features that enrich customer conversations: Salesforce customers will be able to use customizable message templates that include brand and product images and videos.
Security and privacy WhatsApp aims to streamline communication with customers by continuing its own core principles and features in Salesforce.
When all this is addressed, the Salesforce and WhatsApp collaboration can present processes that improve customer journey and customer experience. In an environment where messaging becomes more and more important, businesses can take advantage of real-time customer data from instant messaging.