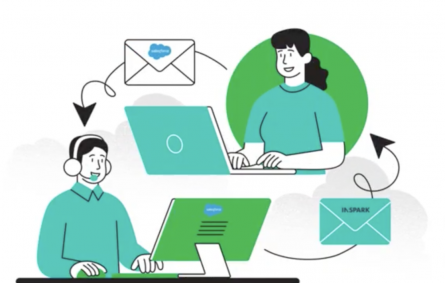 Sales emails are still a dominant channel for reaching customers and meeting quotas. Make them stand out every time.
That whole email thing? It's not going away. Three hundred billion emails per day were sent around the world last year, according to market research company Statista — and every year the number climbs by about 15 billion. So it's as good a time as any to get current on the best sales email tips.
"As work goes hybrid, email is way more important than it ever was," said Ryan Ott, an enterprise account director at Salesforce. "It's becoming harder to get people on the phone. Email never went away. But it's also making a comeback."
Sales people: Can you imagine sending a sales email into this sea of billions, and actually getting a response? The key is to "think quality, not quantity," said Ali Powell, strategic account executive at marketing software company Terminus. 
Below we share some of our most effective sales email tips — how to write, when to write, and how to get closer to closing every time you hit send.
Tip 1: Keep your sales email short  
Your prospects will thank you when you prove value faster. PwC Advisory Principal Mike Hoody recommends using fewer words, showing less formality, and being more direct in your emails. 
"Just get to the point, get it out there — two sentences, get your answer," he said. Technology can help. Customer relationship management (CRM) software can put the right information at your fingertips — like relationship details and deal dynamics — to make your email pop from the beginning. How? By allowing you to seamlessly move between deal records, workflows, contacts, and your inbox. Even better, it can cut your email writing time down significantly by pre-populating your emails with important information — and automating sends.
Tip 2: Schedule meetings directly from email
You don't want potential and current customers to see a long email and decide to review it later — only to forget. You also don't want to make it difficult to schedule time with you. 
One of our favorite sales email tips is to integrate your email with your calendar, which makes it easier to coordinate meetings by cutting out the back-and-forth about timing. Ott uses a Salesforce Gmail integration feature that allows email recipients to accept their preferred meeting time with a single click right from the email.
"Make it frictionless for customers to schedule time," he said. "All I want them to do is click the best time block to connect." 
Tip 3: Send messages at the right time
Emails received at the wrong time get buried or forgotten. Scheduling emails — a feature on the Salesforce platform — lets you pick the right future time for an email to send, improving chances you will receive a response. 
The right time to send emails isn't always straightforward, though. 
"I'm always putting common wisdom to the test," Powell said. "For example, I've been told not to send emails after-hours, but I've found that sending emails at night get more opens and responses."
Ultimately, you know your accounts. "I've noticed that the definition of good timing depends on whether you're emailing a prospect or a customer," Powell added. "Right away works better for customers, while prospects love getting emails at the end of the day." 
Your experience might differ, but one of our sales email tips is this: your timing should be intentional. You don't need to rely on intuition like you used to. "Artificial intelligence has been a game-changer for me," Powell said. "I'm always testing different times for sending emails. I leave it to AI to help me zero in on the best times to reach different customers."
Tip 4: Sync your inbox with your CRM
If you send an email and never record the correspondence in your customer relationship management (CRM) platform, did you really communicate with that account? 
"I still can't believe that there are sales reps who don't log customer data in a CRM," Powell said. "The smartest thing we can do as sales reps is get noticed for our activity. I log info to create transparency around my work, so management can follow along." 
It's not just about visibility into the work, but also the customer relationship. When email information gets siloed, team members working on the same account may not have visibility into your communications with the customer. As a result, they may make the wrong assumptions about customer needs, which can lead to a bad customer experience. 
PwC breaks down these information silos by connecting Salesforce and Gmail together. This allows reps to pull deal information into emails, and add deal updates from email to records in Salesforce — both with just a few clicks. "It requires less deliberation," Hoody said. "It's just there, so you can move between Gmail and Salesforce without having to explicitly do it."
Tip 5: Make sure your email adds value
Selling has always been about cutting through the noise. It's just that now, there's more noise. With so many people working remotely, digital information overload and screen weariness cause significant stress. To succeed with prospects and customers in this environment, you need to communicate thoughtfully. 
"More discussion, more demonstration, less material is a technique that we're trying to do more," Hoody said.
Our sales email tips can help, but at the end of the day it all comes down to one thing. "Emails are never about you," Powell said. "Always think about the prospect or customer on the other end. Before you press send, ask yourself a question: 'How is this email adding value?"
Blog sourced from Salesforce.